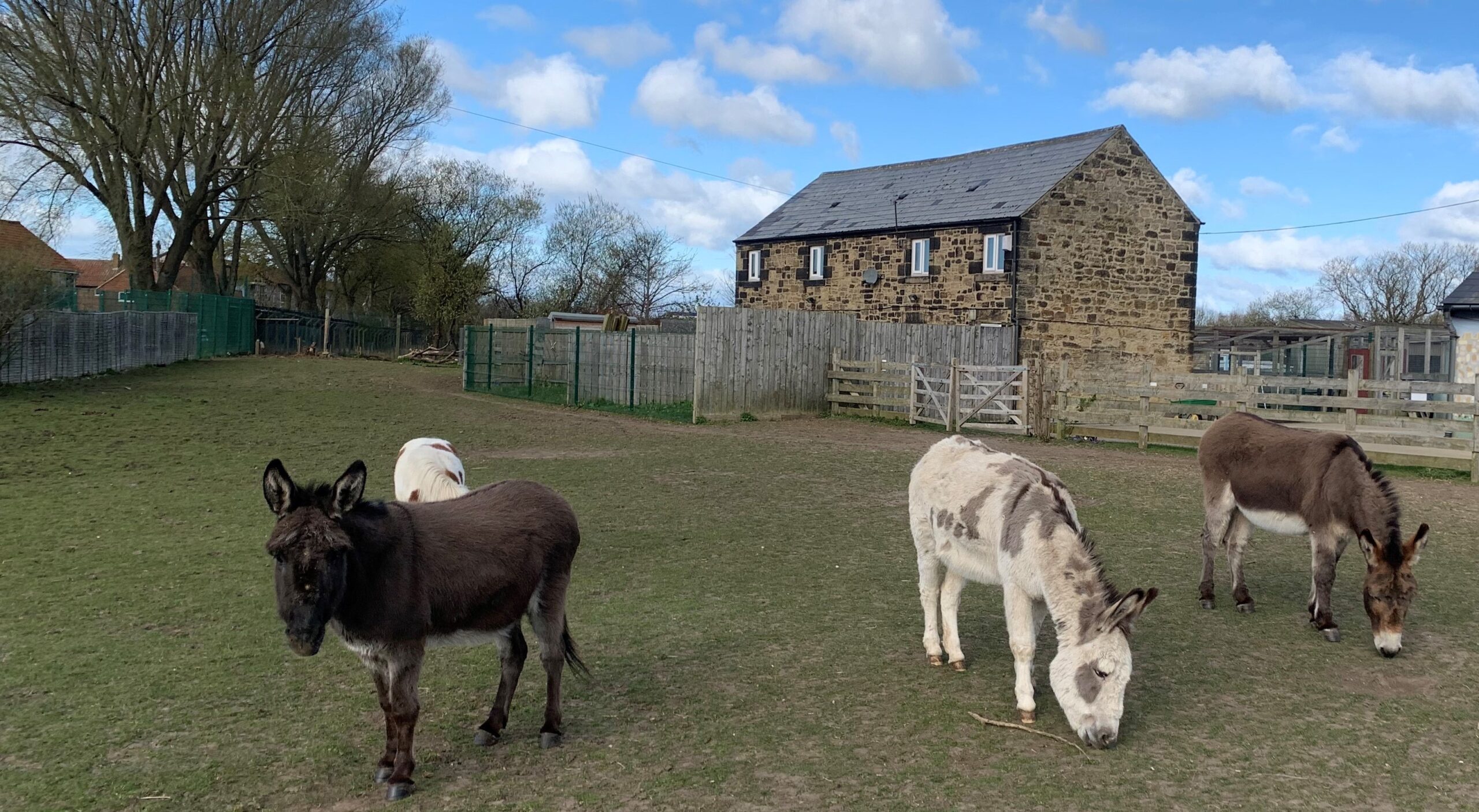 Winstone is a 17-year-old dun jack. He came to us back in 2009 and is looking for a home to live out his days alongside his fellow donkey friends, Snowy and Violet. Winstone is a sweet boy who can be anxious around new people but once he gets to know you, his loving personality shines through. He thoroughly enjoys a pamper from his human friends. Winstone loves a cuddle especially on his way to the field.
Violet is a 17 year old dun jenny. She came to us back In 2009 and is looking for a home to live out her days alongside her donkey friends, Winstone and Snowy. Violet is a lovely lady who has the sweetest personality. She loves to be around humans, she always waiting at the stable door to greet you and is happy for anyone to make a fuss of her. She can be a little sassy at times, but this is why we love her.
Snowy is a 12 year old skewbald jack. He came to us back in 2011 and is looking for a home to live out his days alongside his donkey friends, Violet and Winstone. Snowy is a quirky boy who has a very cheeky personality, but we wouldn't have him any other way. He is always on the look out for any mischief he can get himself into whether that be taking a liking to wheelbarrows or knocking things over. Snowy is always the first one to greet you, seeing if you have any food or patiently waiting to be turned out so he can have a run around.
We are looking for all three Donkeys to go to a home together as they are fully bonded as a trio. All Donkeys are currently stabled overnight and turned out during the day. They are all good for the farrier, vet and dentist and up to date with vaccinations and worming.
If you are interested in rehoming Winstone, Violet & Snowy, please leave your details using the form below.
Please note: due to limited resources we are unable to get back to everyone. If you do not hear from us you have been unsuccessful on this occasion.