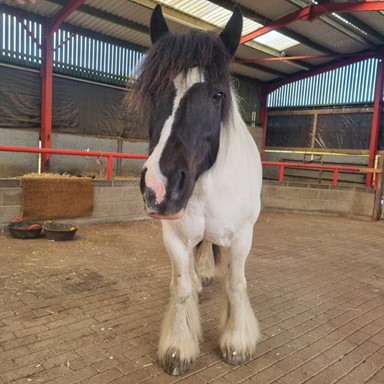 Phoebe is a 23-year-old Piebald Cob. She came to us back 2014 alongside her mother. She is looking for a companion home only due to her arthritis. Phoebe is a lovely natured mare who thoroughly enjoys spending her days out on the field and plodding around but like any mare, she can have her sassy moments! She is always happy to see her human friends and enjoys any attention she can get.
Phoebe has been around mares and geldings since being in our care and she is very happy to take the role on of boss. She loves to get stuck into any enrichment we give her and will stand for hours whilst you pamper her.
Phoebe is fine to be both stabled overnight and live out. She is good with the farrier, vet and dentist. She is up to date with vaccinations and worming.
If you are interested in rehoming Phoebe, please leave your details using the form below.
Please note: due to limited resources we are unable to get back to everyone. If you do not hear from us you have been unsuccessful on this occasion.