FAQ's
As we are an incredibly small team, we've put together some FAQ's which will hopefully answer your questions.
For anything else, please email us at info@dogandcatshelter.com
Can we come to look around?
Our Benton Rehoming Centre is open every Friday, Saturday and Sunday 1pm until 4pm.
Visits to the Benton Rehoming Centre shelter during the week are by appointment only.
Our Claremont Road Centre is permanently closed to the public.
Can I come and drop off donations?
For more information about dropping off donations, please click here.
I want to rehome, what do I need to do?
Visit the rehoming page on our website for more information regarding rehoming and the animals we have for rehoming.
How much is it to rehome an animal?
The donation amounts for adopting an animal are as follows: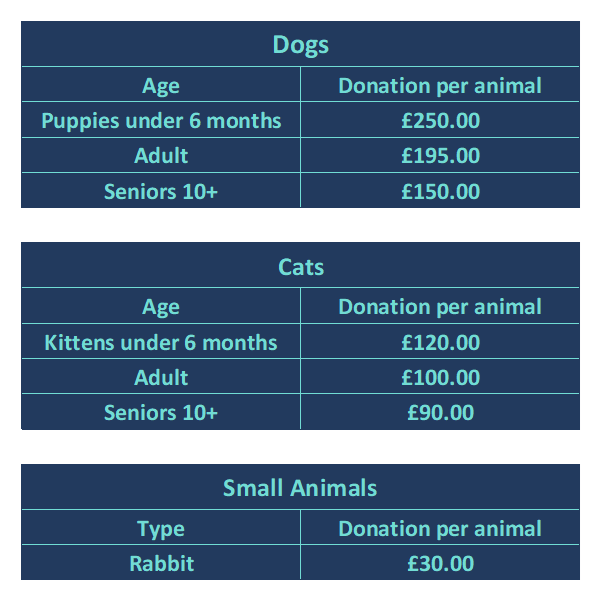 Please note that our donation amounts do not vary depending on breed, they are the set amounts outlined above.
For your donation fee, you will not only have an amazing new family member but they will come microchipped, vaccinated, neutered (providing they are old enough – if not you will receive a voucher), 4 weeks free insurance and a free health check at Blythman and Partners.
I just want to foster an animal, can I do this?
We do have a limited number of foster carers and are looking to develop a larger database of foster carers.
Foster carers may be called at short notice to help with an animal in need, it could be a hand rear kitten, a young puppy or an adult cat or dog with either medical or be haviour needs. If you would be interested in becoming a foster carer, please complete the application form in the 'about us' section.
I've filled out an application, now what?
Our Rehoming Team will be reviewing applications on a regular basis and aim to contact the successful applicant within 2-3 weeks.
We wish we could get back to everyone but we are a very small team so cannot respond to everyone. If you have not heard from us after this time then please assume you were unsuccessful.
Demand for pets has been extremely high so you may not be an unsuitable home, it may just be that we had many suitable applications. We encourage you to apply for other animals you could offer a home to.
An animal I applied for isn't on the website anymore:
We now have a new system in place on our website to try and keep you updated with the progress of animals you have applied for.
You will see "Reviewing Applications" on animals who the rehoming team are currently going through applications for.
You will then see "Rehomed" on animals who have successfully found their forever home. We will keep this up for a number of days then we will remove the animal from the website after this time.
We're looking to adopt a kitten / puppy where do I apply?
Any puppies we get in will be added to the Our Dogs section under rehoming. If there aren't any puppies on there then we don't have any for rehoming.

When we have kittens for rehoming, a link to applications will be added to the Our Cats section under rehoming. If the applications are not in this section, the applications are currently closed due to the volume already received.
Can you call me back when you have the pet I'm looking for or add me to your waiting list?
We do not have a waiting list, you will need to complete an application for any animal on the website who you wish to rehome.

We are an incredibly small team and we don't have the resources to call people back when we have a suitable animal for you. All we can do is advise you to keep checking back on the website.
There's a stray cat that has been coming to my house for a while, what should we do?
As a general rule you should never feed a cat that comes to your home, they may have a perfectly good home already but will return and sometimes stay at your home in order to carry on being fed (even if it is some extra grub!)

If a cat is still hanging around your home or if you find a litter of kittens without a mum, please call us on 0191 215 0435 and we can give you further advice.

If the cat looks unwell or there is any medical concern, please contact a local vet.
I need to rehome my animal, what do I do?
We completely understand circumstances change and people need to rehome their animal. That is what we are here for, we are here to provide help without judgement and we aim to make the process as easy and as stress free for both the animals and humans.

Our Arrivals Centre deal with all new animals needing to come into our care so the first step is to give them a call on 0191 232 2878.
When you call our Claremont Road Arrivals Centre, listen to the automated message for instructions.
Please leave a message on the answer phone with your name and contact details and the reason for your call, and a member of the team will call you back.

We appreciate it is hard for many people to make that phone call, however this is the best way to contact our team and rest assured there will be no judgement from any of our staff members.
What will happen when I call your Arrivals Centre about taking in my animal?
Our Arrivals Team will ask you a few questions about the animal and they will then give you an appointment to bring in your animal if we are able to.
At your appointment you will be asked to fill in a form with some more in-depth questions about your animal. This is so we can gather as much information about the animal which in turn will allow us to find the best home possible.
We do ask for any vaccination records to be brought to this appointment also.
We do not charge to take in animals but any donation towards their care is very much appreciated.