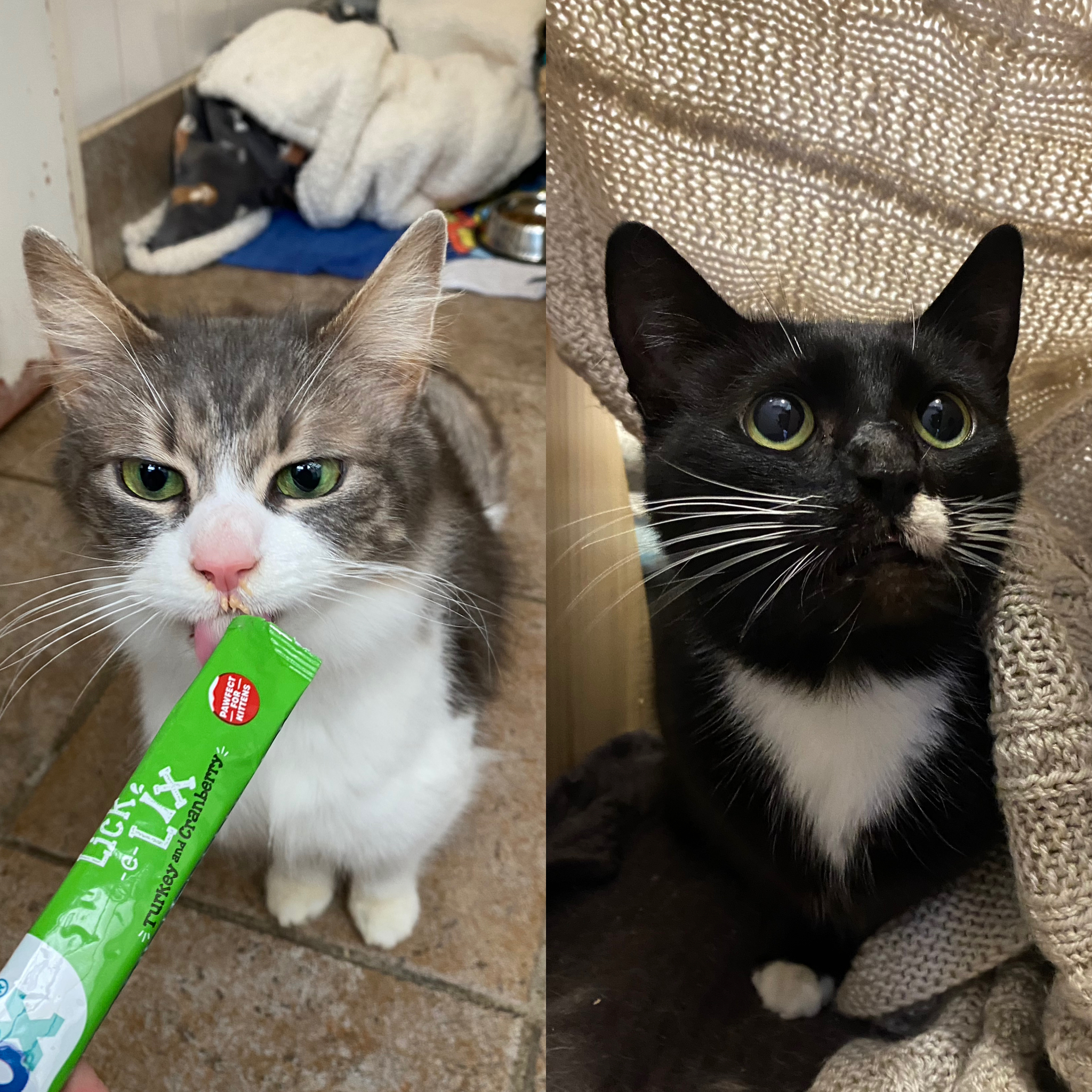 Cat Numbers 2637 & 2638 – Age (approx) 6 years & 9 years – Arrival Date December 2022.
Charm & Persephone are outdoor cats who could live with children aged 16+, but would like to live in a home with no other pets.
Charm & Persephone are very timid girls to begin with, and may let out a little hiss to let you know to take it slowly. They can very easily be won over with plenty of treats – especially Lickelix!
Their previous owners said that they were both very wary of strangers and visitors in the home. Therefore they are looking for a quieter home, who don't often get visitors, to allow the girls to fully decompress and feel safe in their new home. Once they feel comfortable with you, they do enjoy sitting on laps and a good chase of a feather toy!
They have given each other a lot of comfort whilst they've settled into the shelter environment. In their previous home, they did have their sisterly disagreements, but got on well a whole. The girls have previously lived with a dog, which they did not enjoy the company of at all. With this in mind, and due to their timid nature, Charm & Persephone are looking for a home as the only pets.
Whilst they are being rehomed as outdoor cats, to give them the option to go outside if they would like, Charm previously spent most of her time indoors, Persephone would spend more time outside so it is more important that Persephone has more freedom to come and go as she chooses.
If you are interested in rehoming Charm & Persephone, please fill out the application form below.
Please note: due to limited resources we are unable to get back to everyone. If you do not hear from us you have been unsuccessful on this occasion.