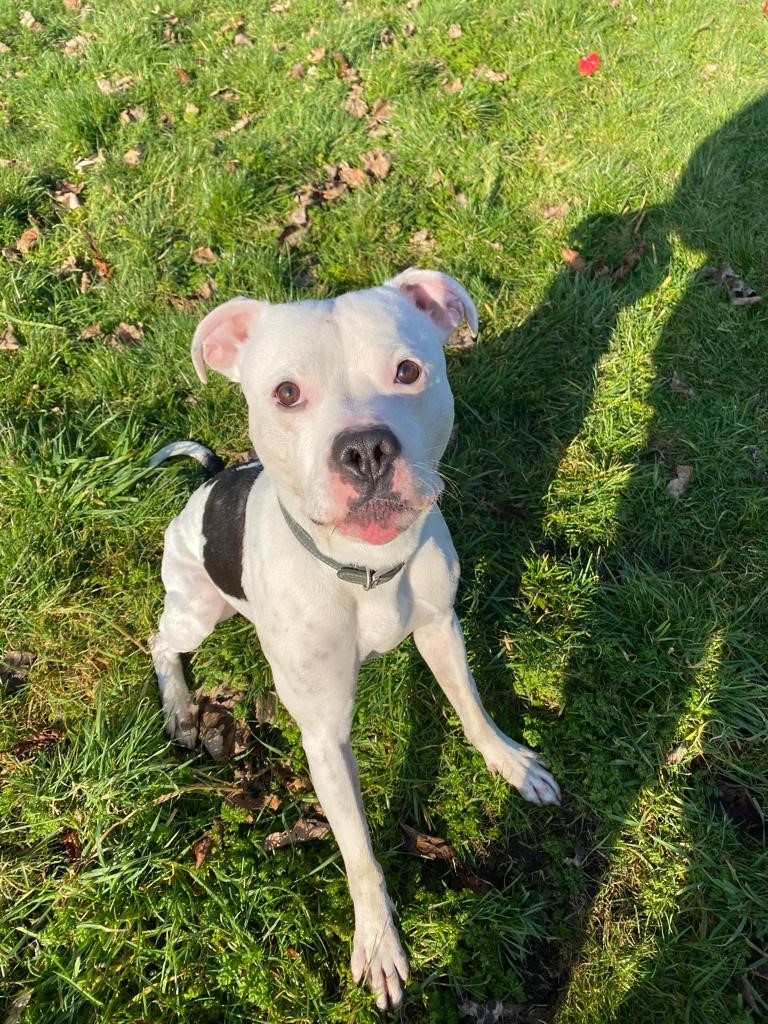 Bruno – Dog Number 2725 – Age (approx) 3.5 years old – SBT – Arrival Date – February 2023.
Bruno can live with children 10+, he could live with another dog but no cats or small animals.
Bruno is a lovable, daft lad! He is a sweet, quiet boy in his kennel who just lights up and becomes a different dog when he's out for a run around! He absolutely adores playing with his toys and would happily spend all day every day playing in our field/in our playrooms, he will bark and howl at you to play with him – or if you're taking too long to kick the ball for him!
He is a clever lad who, typical bull breed, likes to get his own way – he will only sit or give you a paw if he knows he will get a treat out of it! Bruno needs a family who can keep up with his energy requirements and use a good balance of mental and physical enrichment to get his brain engaged to tire him out.
He is a very strong lad, who is in need of some training with his on-lead walking, so he will need owners who are physically capable of managing him. Bruno really deserves to be in a forever home with a family who are truly dedicated to him. He hasn't had the easiest of lives up until now, having come into our care as a stray on more than one occasion.
He is such a big, loveable character who is at his happiest when being able to stretch his legs and play with his toys – he doesn't ask for much! We are sure he will bring his new family lots of joy and laughter with his silly, cheeky ways.
If you are interested in rehoming Bruno, please fill out the application form below.
Please note: due to limited resources we are unable to get back to everyone. If you do not hear from us you have been unsuccessful on this occasion.